Science Carnival 2023 at Gujarat India
To celebrate National Day of India on February 28 one of the biggest Science Carnival 2023 was organised by Gujarat state – India at prestigious Science City Ahmedabad during 28th February to 4th March 2023.
AMSAT-INDIA was specially invited to participate in this biggest scientific exhibition for mass awareness on Amateur Radio & Satellite Communication!
AMSAT-INDIA Regional Coordinator Rajesh Vagadia VU2EXP & team member Sakshi Vagadia VU3EXP did huge efforts to mass promote AMSAT activities amongst all sort of visitors which includes young kids, school-college students, budding engineers, IT Programmers, general public, professionals from various industries, scientists from renowned organization like ISRO, PRL, IPR, VSSE, ISR, officers from BSF, Police, Fire dept and citizens from every walk of life! More than 100,000 visitors were reported and grabbed the opportunity to visit science carnival 2023 and our Science exhibition during 5 days.
AMSAT-INDIA stall was spacious & decent sized at 3m x 3m, it was a big attraction at the center of the Science Exhibition. With well prepared different informative Banners on AMSAT-INDIA, Various Satellite Activities, Amateur Radio Satellite chronology, ARISS Student outreach program, ARISS SSTV event, Question submission for our upcoming ARISS student outreach program etc was absolutely eye catching from a distance.
For the curious visitors we tried to highlight every aspect of our hobby and exhibited all sorts of Radio stuff, Documents, QSL Cards, Books, Ham Licence, Awards, Project articles, Tracking software, SSTV software, SDR Software, Cube Satellite models etc to give bit idea of our hobby.
Experiencing various amateur radio gears, satellite antenna & test instruments were highly appreciated by visiting budding engineers from a number of colleges at AMSAT-INDIA stall. Some of the stuff we displayed include; Dual band Arrow-II antenna, dual band Yagi, tape measure antenna, GP, Telescopic antenna for SDR, Radios includes Icom IC-705 with LiFePO4 battery pack, Kenwood VHF base, half dozen of VHF/UHF HTs, RTL-SDR setup, LDG ATU, NanoVNA, Morse Key, cw oscillator, Paddle, electronic keyer, SWR/Power meter, Cable, Connectors etc. It made our task easy to explain the use of each stuff according to the visitors' query.
We came across various types of queries like how to be a Ham, Procedure to get license, Types of Amateur Radio satellites, operating modes, setting up ground station, how to receive ISS SSTV images, how to establish satellite contact etc. We made a humble attempt to answer & satisfy all of those queries. We enjoyed a very detailed discussion with students/groups who already know about Amateur Radio and always need to learn more on Satellite Communication.
We also highlighted contributions of worldwide AMSAT organizations, IARU, ARISS, RSGB, ARRL and our ARSI & GIAR. I also mark a note on an author and my teacher Mr. Nagendra Vijay of popular Gujarati Science magazine named 'Scope' who did tremendous efforts to introduce Ham Radio in Gujarat (India) 40 years back and still continue to create awareness via it's leading Science magazine 'Safari', his stall was just after a row.
Our AMSAT-INDIA stall were visited by many well-wisher GIAR Ham friends including VU2CPV Pravinbhai, VU2JGI Jagdishbhai, VU2MJP Manojbhai, VU2SPF Bhatnagarji, VU3APY Asheshbhai, VU3VDC Vitthhalbhai, VU3GLY Priyesh, VU3WHO Snehal etc.
It was a great experience for us to spend the whole 5 days enjoying talking & explaining our favorite hobby Amateur Radio & Satellite Communication!
We were happy to present amateur radio as a scientific hobby & experimenting platform for diversified fields and not just emergency communication tools!
Lots of positive & appreciating feedback we received in the visitor feedback book.
We are thankful to Science Carnival 2023 Organiser Dr. Vrajesh Parikh, Pulkesh Prajapati, Dr. Narotam Sahoo & team for inviting us for this prestigious Science Carnival Exhibition. I also thank our AMSAT-INDIA Secretary Mr Nitin Muttin VU3TYG, Director Educational B. A. Subramani VU2WMY, President Ramesh Ramsubbu VU2RMS & committee for complete guidance and support extended to us.
I specially thank team member Sakshi Vagadia VU3EXP & my XYL Kiran Vagadia for supporting and assisting me all the time during the 5 day exhibition.
I am optimistic to see the next generation taking keen interest in Amateur Radio & Satellites from VU Land.
Thank you
73
Rajesh Vagadia VU2EXP
Rajkot – Gujarat
Regional Coordinator
West India Zone,
AMSAT-INDIA
M: +91-9898283916
E: vu2exp @ gmail . com
www.qrz.com/db/vu2exp
AMSAT India at HAMFEST INDIA 2018
HAMFEST INDIA 2018 will be held in the silicon city of Bangalore on December 29th and 30th 2018. e will be setting up an exhibition area related to amateur radio satellites and some technical talks. Please visit www.hamfestindia2018.com for more information and registration.
Amateur Radio Satellite Activity in India
AO91 and AO92 satellites have created a significant interest among the Indian Amateur Radio fraternity. Many Radio hams from all over India are building and experimenting their new antennas on these two satellites and enjoying two way contacts even during late night and early morning pass. Some of them are also working through SO-50 and IO-86 (Lapan-2) satellites. Looking forward for more activity from India on the Easy Sats.
Organizational Announcements- Regional Co ordinators
We are pleased to announce that as of September 21st 2015 Somashekar, VU3JBA has accepted the role of Director, Regional Coordination at AMSAT INDIA. He will be responsible for driving programs and projects of AMSAT INDIA in various parts of India through his team of Regional Coordinators.
We have also appointed Rajesh Vagadia , VU2EXP as the Regional Coordinator for West Zone and Kaustav Saha, VU2UUU for North Zone in India. We will be shortly announcing the names of coordinators for East and South zone.
With this new roles we will be able to reach out to the Amateur Radio fraternity and student community across India to develop interest and activity on the Amateur radio satellites.
LAPAN-A2 (IO-86) FM Transponder worked and heard in India
Paddy , VU2PEP shared an update that he was able to work and hear some stations from south east asia when the FM transponder was opened up for testing on November 21st and 22nd . A video of the pass with audio is available at youtube  https://youtu.be/yUR6yhdIX9s
AMSAT INDIA @ Bangalore ARDF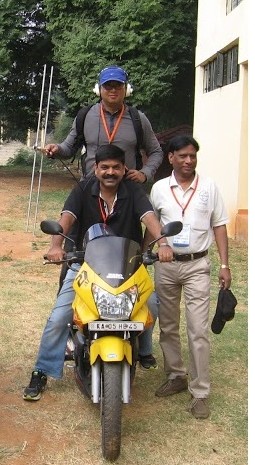 AMSAT INDIA members do not only track amateur radio satellites but also actively participate in events related to Amateur Radio. Bangalore amateur radio club (BARC) conducted a Foxhunt (ARDF) event in Bangalore on December 7th 2014. AMSAT INDIA members actively participated in the event and won the first two places.
First Position – Soms, VU3JBA and his YL Vatsalya
Second Position – Mani, VU2WMY and team
More photographs can be found in the gallery section of the website.
AMSAT INDIA at HFI 2014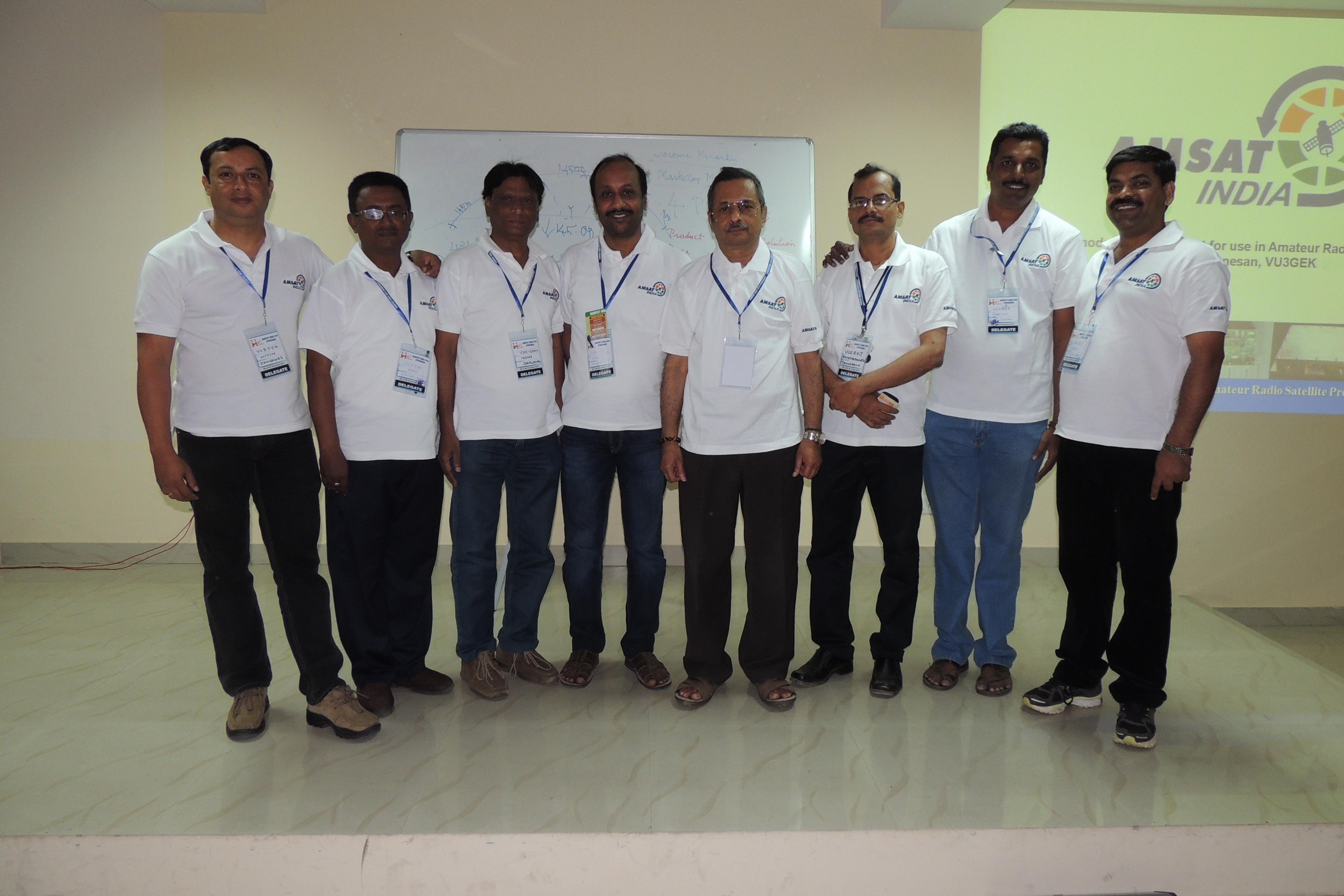 Core team members VU3TYG,VU2WMY,VU3GEK,VU2RVJ,VU3PZA,VU3HCJ,VU3JBA& VU2RMS,of AMSAT INDIA traveled to Hyderabad to attend HAMFEST INDIA 2014 on November 8th and 9th. Some members reached couple of days early to visit historic places in this city.
More information about the city of Hyderabad at http://en.wikipedia.org/wiki/Hyderabad
AMSAT INDIA team was provided a slot for two hours on the first day of the event to talk about topics related to Amateur radio satellites. The inauguration of the event was quick and we moved to the seminar hall which was allocated to us for the presentations, the seminar hall was well organized and consisted of dual screen projection  and a good audio system.
The first presentation was covered by Nitin VU3TYG and Mani VU2WMY who provided an update about AMSAT INDIA and activities & an update on the end of mission of  VO-52. An appeal was made for  people to come forward and join the organization to help with the objectives of the organization.
The Second presentation was done by Ravi VU2RVJ who spoke about "Working with LEO satellites" and covered topics related to LEO orbit's, Antennas, Doppler Shift and basic setup required for such operation.Guru, VU2GUR also spoke about doppler shift and demonstrated this with the help of Mani VU2WMY by playing and varying the volume of an SSTV audio file and simulating the progress of a satellite pass.
The third presentation was by Nitin, VU3TYG who presented about "Telemetry Decoding from Amateur Radio Satellites" and covered topics as introduction  to Telemetry and Telecommand, why satellites have telemetry and what does the data mean, how to get started with a basic setup, examples on how to decode and educational outreach opportunities.
The last presentation was by Nitin VU3TYG & Ganesan VU3GEK who provided an description of the new Multi Mode payload designed at AMSAT INDIA. Ganesan explained the various stages of this payload using the block diagram and how this can be customized as per mission requirements.
The entire session was lively with good interaction between the presenters and the audience and we received a pat on our back from some of the audience for our efforts. We are looking forward to appoint regional volunteers across India who can help us with our programmes. We would like to thank HAMFEST India 2014 organizers for providing us an opportunity  for the technical session.Some photographs of the event can be found in the gallery section of this website
The next HAMFEST will be held at Rajkot in 2015 and we will look forward to participate again.
Heard in India- ARISS ham radio contact with SK Putrajaya Presint 9, Putrajaya, Malaysia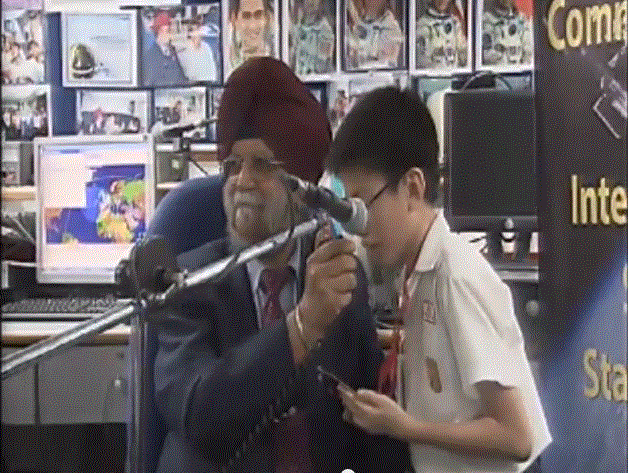 An Amateur Radio on the International Space Station (ARISS) contact has been planned with participants at SK Putrajaya Presint 9, Putrajaya, Malaysia on 01 November. The event stated at 16:45 Indian Standard Time at 9M2RPN Satellite Ground Station located in Planetarium Negara.VU2TS,VU2DCT & VU3TYG were able to hear on 145.800 Mhz  Astronaut Gregory (KF5LKT) answer interesting questions by the school children.Thanks to Sangat,9M2SS for providing  the headsup of the event.
Ground Station setup for Swayam – COEP Satellite Project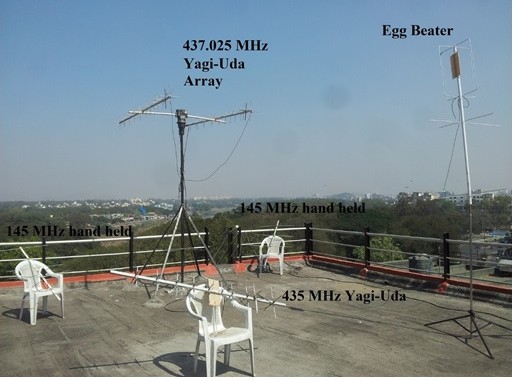 The COEP Satellite project is a student led initiative revolving around the design and fabrication of a Pico-satellite having a HAM Communication payload. COEP Ground Station was set up for servicing the Amateur Radio communication satellite "Swayam', a 1-U cube satellite with the scientific mission of demonstrating passive magnetic stabilization. The Ground segment operates on 144 MHz band as well as the 435 MHz band with the station call sign of VU2COE. The transceivers currently operational are Kenwood TS-2000 for general amateur satellites operating on AX.25 protocol, while a custom CC1120 transponder based system is deployed for Swayam. This system works on the COEP Satellite protocol which is a custom data link and network layer protocol for short messaging. COEP Ground station is equipped with Antenna Rotator system for directional UHF Antenna. The Low noise amplifier and High power amplifier have been developed and installed at ground station.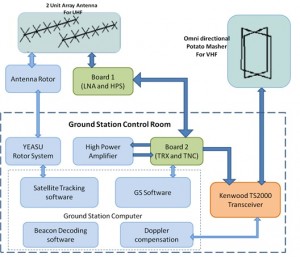 The team has established a communication link with more than 30 different satellites, including passively stabilized satellites. The data received includes critical CW beacon data of Amateur satellites and weather images transmitted by NOAA weather satellites. The satellites transmitting BPSK, FM and BFSK are also received using Kenwood TS2000 all band all mode transceiver. A successful APRS communication was established with packet radio Digipeater on International Space Station. The High gain antenna has made it possible to receive even the low power transmitting amateur satellites. The data received from beacons of various amateur satellites is shared with teams of respective satellites helping them to monitor their satellites.
The COEP Satellite (Swayam) project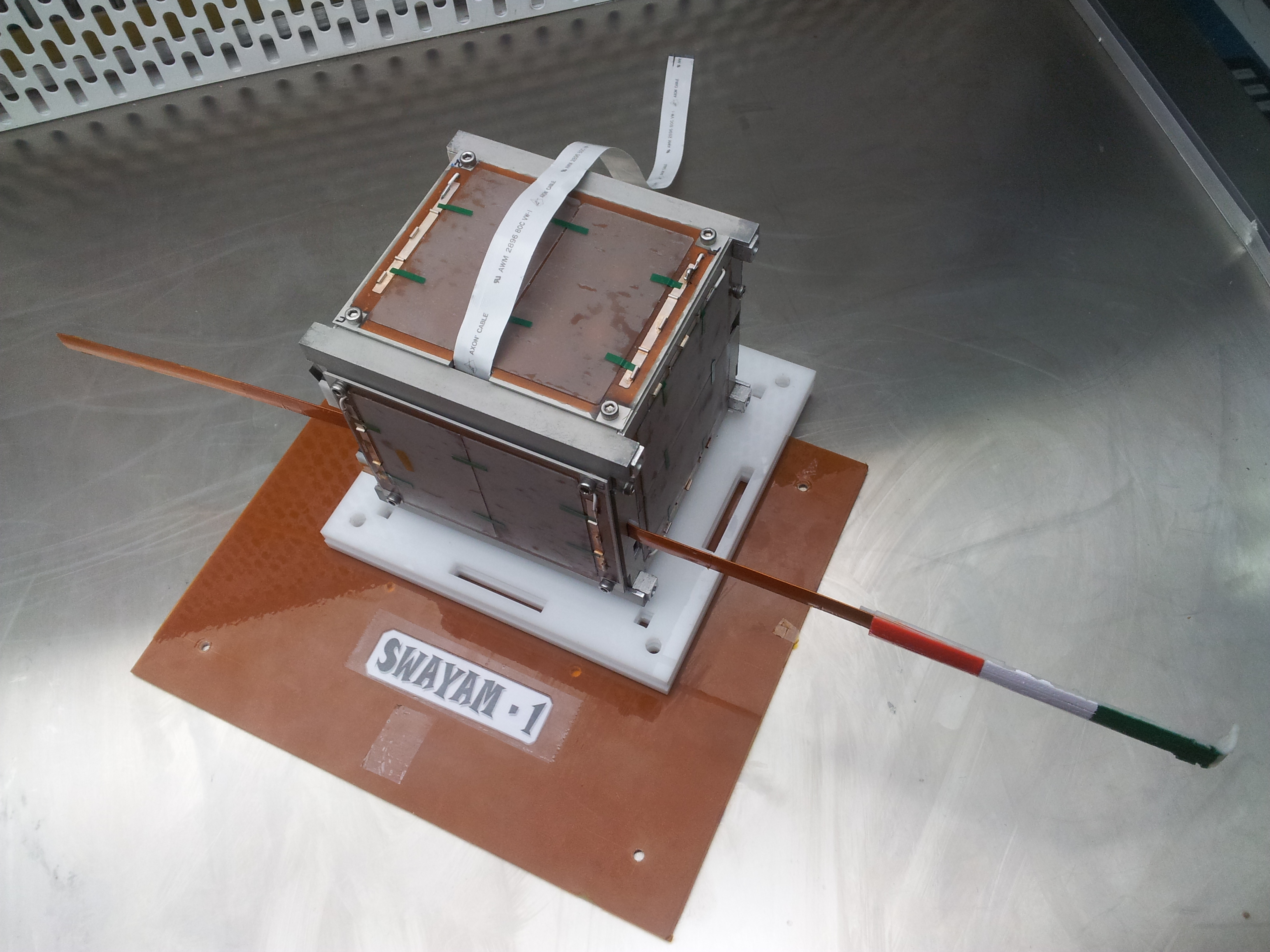 The COEP Satellite (Swayam) project is aimed at developing a reliable bidirectional communications platform. Started in late 2008, the Swayam project revolves around the challenge of building a 1U pico-satellite destined to orbit the Earth at a height of 500-800 km. The scientific objective of the mission is to demonstrate the concept of passive stabilization using magnets and hysteresis which is the first of its kind in India. The utility of the satellite is to provide point to point messaging service from one ground station to another in the HAM band frequency.
The text messaging services are provided under the custom made COEPSAT protocol. These are open to all and various HAM users across the globe can use these for communicating amongst themselves. The total capacity of message handling is 18 lakhs which is quite large to cater to the messaging services to various Ground Stations. The satellite also transmits the received signal strength and the error corrected information in the downlink which the Ground Stations can use to characterize their setup for digital communication. On successful technological demonstration of Passive Control System in Swayam, this project will serve as a perfect platform for future satellite missions with different innovative payloads.
In the college premises, on the roof of the Department of Metallurgy and Material Sciences, the team has established a class 10000 clean room, which houses all the facilities to test and integrate the satellite. The premises are as per ISRO Specifications. The team also has a functional Ground Station, with antennae for 435MHz band and 144MHz band communication and the associated Radio interface. The team has established a communication link with more than 30 different satellites, including the International Space Station. Globally, the frequency 437.025 MHz has been coordinated for Swayam. The team has published 10 highly acclaimed papers so far.
After numerous visits to ISRO Satellite Centre (ISAC), Bangalore, the team has fabricated, assembled and tested the Qualification Model (Proto-Flight Model) of Swayam, which has all the flight specific hardware. Most of the systems were designed, fabricated and assembled in-house. The software and hardware validation and stress testing is complete with the spacecraft being tested for end to end performance. The compatibility of Swayam Satellite with the ISRO Nano Satellite Launch System was checked and the satellite was subjected to the launch loads as per ISRO specifications. The Qual Model has also been subjected to environmental extremes to establish its survivability in Space Conditions. All systems are flight ready. The team has recently cleared the Critical Design Review (CDR) at ISAC, Bangalore and obtained a green signal for fabrication and launch of Flight Model of Swayam.
More information about the project at http://www.coep.org.in/csat/