HAMSAT – VO-52 Decommssioned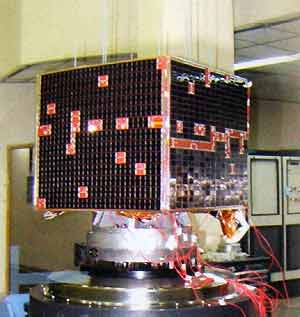 HAMSAT – VO-52 stopped working after 49,675 orbits on July 11th 2014 due to the failure of on-board lithium ion batteries. Although other systems and sub-systems were working normal as per the latest
telemetry received, the on-board computer continued to 'Reset' mode due to the failure of batteries.

Since 11th July 2014 every best possible effort has been put in by the spacecraft controllers at ISTRAC Bangalore to revive the satellite, but with no luck. Though it is hard, the HAMSAT VO-52 designers and
controllers concluded that the time has come to let the little angel free in space to go drifting on her own from their care and custody.Thus, today 21st July 2014, ISRO have decommissioned 'HAMSAT-VO52′ officially.
Nevertheless, at this point of time, on behalf of the World Amateur Radio Fraternity, we thank each and everyone who contributed to the great success of 'HAMSAT'. Particularly, our sincere thanks to the Chairman ISRO, Dr. K. Radhakrishnan, past chairmen Dr. Kasthurirangan, Dr. G. Madhavan Nair, Director-ISAC Dr. S.K.Shiva Kumar, past ISAC Directors Dr. P.S. Goel, Dr. Shankara, Dr. T.K. Alex, Director-ISTRAC Shri. B.S. Chandrasekhar, scientific secretary Dr. Koteshwar Rao, Project Director-Shri. J.P. Gupta, Deputy project Directors, Mission Director-Shri. R.Suresh, Operations Director-Shri. Parimalarangan and each and every person directly or in-directly contributed. We also
thank , late Shri. Nagesh Upadhyaya-VU2NUD, Shri. B.S. Gajendra Kumar-VU2BGS, Shri. Prathap Kumar-VU2POP, Air Commodore. Subramanian-VU2UV, Shri. V.P. Sandlas-VU2VP, Dr.R. Ramesh-VU2RMS, Shri. Nitin-VU3TYG, Mr. Williams Leijenaar PE1RAH and each and every member.