AMSAT INDIA at HFI 2014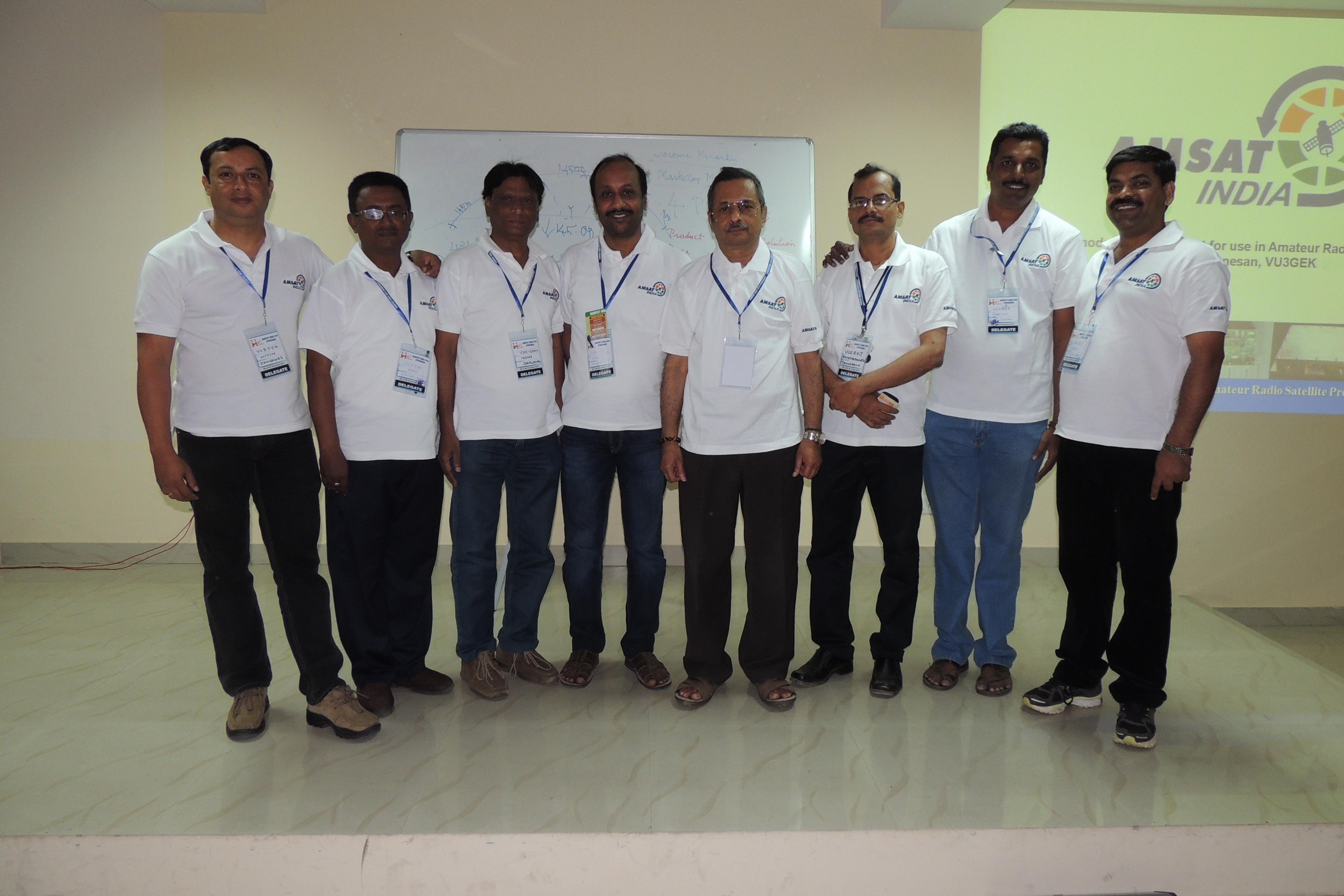 Core team members VU3TYG,VU2WMY,VU3GEK,VU2RVJ,VU3PZA,VU3HCJ,VU3JBA& VU2RMS,of AMSAT INDIA traveled to Hyderabad to attend HAMFEST INDIA 2014 on November 8th and 9th. Some members reached couple of days early to visit historic places in this city.
More information about the city of Hyderabad at http://en.wikipedia.org/wiki/Hyderabad
AMSAT INDIA team was provided a slot for two hours on the first day of the event to talk about topics related to Amateur radio satellites. The inauguration of the event was quick and we moved to the seminar hall which was allocated to us for the presentations, the seminar hall was well organized and consisted of dual screen projection  and a good audio system.
The first presentation was covered by Nitin VU3TYG and Mani VU2WMY who provided an update about AMSAT INDIA and activities & an update on the end of mission of  VO-52. An appeal was made for  people to come forward and join the organization to help with the objectives of the organization.
The Second presentation was done by Ravi VU2RVJ who spoke about "Working with LEO satellites" and covered topics related to LEO orbit's, Antennas, Doppler Shift and basic setup required for such operation.Guru, VU2GUR also spoke about doppler shift and demonstrated this with the help of Mani VU2WMY by playing and varying the volume of an SSTV audio file and simulating the progress of a satellite pass.
The third presentation was by Nitin, VU3TYG who presented about "Telemetry Decoding from Amateur Radio Satellites" and covered topics as introduction  to Telemetry and Telecommand, why satellites have telemetry and what does the data mean, how to get started with a basic setup, examples on how to decode and educational outreach opportunities.
The last presentation was by Nitin VU3TYG & Ganesan VU3GEK who provided an description of the new Multi Mode payload designed at AMSAT INDIA. Ganesan explained the various stages of this payload using the block diagram and how this can be customized as per mission requirements.
The entire session was lively with good interaction between the presenters and the audience and we received a pat on our back from some of the audience for our efforts. We are looking forward to appoint regional volunteers across India who can help us with our programmes. We would like to thank HAMFEST India 2014 organizers for providing us an opportunity  for the technical session.Some photographs of the event can be found in the gallery section of this website
The next HAMFEST will be held at Rajkot in 2015 and we will look forward to participate again.