4M Lunar Payload in Practical Wireless Magazine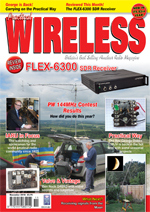 The November issue of Practical Wireless (PW) magazine, in the shops now, devotes three pages to the 4M amateur radio lunar payload which will transmit JT65B on 145.980 MHz. Beijing plan to launch the payload on October 23. The article, written by Colin Redwood G6MXL, is well worth reading.
PW magazine also carries the popular columns World of VHF by Tim Kirby G4VXE, Data Modes by Mike Richards G4WNC and Emerging Technology by Chris Lorek G4HCL.
It is understood that postal copies of Practical Wireless can be purchased using a Debit or Credit card by ringing +44 (0)1202 751611Monday – Thursday 8.30am – 4.00pm.
Practical Wireless magazine http://www.pwpublishing.ltd.uk/practical-wireless-latest-issue/